Start Date: February 3, 1995

End Date: August 4, 1995
Shows: 32

Legs: 1
Countries: Australia, Canada, United States
Opening Acts: Alive!, Black Diamond, Cold Gin, Desstroyer. Dynissty, Gene's Addiction, Hotter Than Hell, Karissma, Rock 'n' Roll Over, Strutter, Unmasked, Wicked Lester
Average Attendance: Unknown
Line Up: Paul Stanley, Bruce Kulick, Ace Frehley, Gene Simmons, Eric Singer, Peter Criss

In 1995 KISS took notice of the KISS conventions being held all around the world, Gene and Paul, decided to organize KISS conventions them self as they had a warehouse full of stuff they could showcase. (And also make some money, as tickets were a whopping $100 bucks!)
The KISS conventions were mostly held at hotels and their convention centers, the day long events were a must see for KISS fans, with a KISS museum with KISS memorabilia including Eric Carr's abandoned costume for his Hawk character and many other old KISS costumes, instruments and more. Also present at the conventions was allot of merchandise, Gene and Paul signed a deal with Sony Signatures to handle all their merchandising, in a big room dealers had stalled their tables to sell their KISS merchandise and memorabilia. In the main room of the convention center, video's and slide shows were being showcased, Eric and Bruce gave drum and guitar clinics and a local KISS tribute band would perform. Interesting note is that their record label did not want to help with promoting the events so the band asked KISS fanzines publishers to promote and even work the events for free. Allot of fan shot footage is available of this tour as the band did not mind if fans recorded the Q&A's and acoustic sessions!

Before the main performance KISS would hold a Q&A with fans, but the best part were the acoustic sessions, Gene did use a electric bass, and Paul and Bruce used electro-acoustic guitars. A small part of the songs were rehearsed but some songs requested by the audience were unrehearsed, it was entertaining watching the band members trying to remember a old KISS song, especially Gene who is known for forgetting lyrics and music even during a rehearsed show. After the acoustic session the band would do lengthy meet and greets, signing autographs and just having conversations with their fans. These conventions were a rare piece of KISStory only to be happening again in a almost similar matter when the KISS Kruise became a reality!

Eventually MTV wanted to do a KISS MTV Unplugged session, Peter Criss planned to visit the Burbank, June 17th convention together with his daughter Jenilee, to show her how big of a rock star her father really was in the 70's (Peter was already in contact with Gene and Paul as they sold merchandise with Peter on it and he got a cut), Peter got offered a limousine ride to the convention from Gene and Peter held a Q&A with Gerri Miller from Metal Edge, than Peter came on stage with the band to sing 'Hard Luck Woman' and 'Nothin' Too Lose', seeing the reaction of the crowd, it was more than obvious to Gene to invite Peter for the MTV Unplugged session and Ace as well.
But things were not going smoothly for the MTV Unplugged sessions to come together seeing both Peter and Ace's lawyers set demands made by their clients so they would get a even share from the whole thing. Ace and Peter had learned their lessons from their previous engagements with Gene and Paul and were playing it smart this time. Eventually the whole legal matter got resolved right on the day of the shoot and KISS at MTV Unplugged was set to go, it turned into a unique piece of KISStory and we saw a glimpse of the original band coming together once again.
Rehearsals for the MTV Unplugged session started on August 9, a week after the Convention Tour ended. After both Ace and Peter performed their songs, Bruce and Eric were welcomed back to the stage so all the members were to participate on the final song 'Rock And Roll All Nite' , sadly they were met with boos from the audience, this in the eyes of Gene was clearly a sign that the fans were ready for a reunion of the original band and Bruce and Eric must have seen it coming as well, Eric got invited back into KISS eventually, but Bruce never returned to the band and 1996 saw the end of his employment with KISS since 1985.

Instead of the old style paper tickets, visitors to the conventions were given a laminated pass, this was a idea of now current KISS member Tommy Thayer, who opened for KISS during the Asylum Tour with his band 'Black "N Blue' and later on played in the KISS tribute band Cold Gin. Tommy eventually got noticed by Gene and got hired to be his assistant, he co-wrote on 'Betrayed' for 'Hot In The Shade' and he eventually would climb up to be a jack-of-all-trades for the band, he helped Ace remember to play old KISS songs when he returned to the band, than became tour manager during KISS's reunion and than eventually he became a KISS member himself after Ace left the band completely.
On the right, Tommy Thayer with KISS tribute band Cold Gin member and also someone who has been working behind the scenes for KISS for a long time by now is Spiro Papadatos, who now is Gene's assistant and has more jobs in KISS.Ltd.
MTV KISS Unplugged:
Big KISS Logo

Giant Rock And Roll Over Rug

Mannequins With KISS Costumes

KISS Inspired Pylons

Confetti



01.
'Comin' Home'
02.
'Plaster Caster'
03.
'Goin' Blind'
04.
'Domino'
05.
'Nothin' To Lose'
06. 'Sure Know Something'

07.
'Calling Dr. Love'
08.
'C'mon And Love Me'

11. 'God Of Thunder' (Country version)'
12. 'See You Tonite'

13. 'Do You Love Me?'

14. 'A World Without Heroes'

15. 'Every Time I Look At You'

16. 'Rock Bottom'

17. 'Shandi'
18. 'Strutter'

19. 'Hide Your Heart'
20.
'Black Diamond'
21. 'Heaven's On Fire'

22. 'Rock And Roll All Nite'

The Convention tour book, even though it was more a program for the convention that people visited.
It was handed out free at the door as tickets were already $100 dollars.

KISS knew how to connect to the fans and this tour book mentions them "going online soon", but this would not happen until 1999.

The program/tour book held various old KISS stage memorabilia, from costumes to photos.

KISS showing a sneakpeak at their next album's art, that would have been Carnival Of Souls

A video showing us what being was showcased at a KISS Convention!
Special Shows / Happenings:

- Perth Hyatt, Perth, Australia, February 3, 1995 -

For the first convention show, KISS held a press conference a day before the event at the Hyatt Hotel.
Thirty minutes of the show was aired on Australian radio station Triple J.

- Adelaide Hilton, Adelaide, Australia, February 5, 1995 -
On the first two conventions the band and management were still working on various issues with the hotels in terms of noise and liquor licensing,
after the first two shows when drunk fans would none-stop be screaming "Gene, Gene, Gene" and "We love you guys!!" and constant song requests,

they made the conventions a none alcohol event.
- Hard Rock Cafe, West Hollywood, CA, June 16, 1993 -
A special promotional event where the band announced the North American leg of the Convention Tour,
they also performed 3 songs acoustic, 'Hard Luck Woman', 'Domino' and 'Every Time I Look At You'.
- Burbank Airport Hilton & Convention Center, Los Angeles, CA, June 17, 1995 -
The convention where Peter sang along with the band for two songs and gave a Q&A.
- Sahara Hotel & Casino, Las Vegas, NV, June 24, 1995 -
Paul brought his infant son Evan out on stage at one moment, after the MTV Unplugged session, the band would continue working on

their next album, 'Carnival Of Souls'. Paul would write 'I Will Be There' for Evan.
- Ramada Plaza, Indianapolis, IN, July 13, 1995 -
KISS Army founder Bill Starkey attended the event, making it his first KISS concert since 1978, he also was a surprise guest speaker and
briefly joined the band on the stage during the Q&A session.
- City Center Sheraton, Cleveland, OH, July 23, 1995 -
For the first time a KISS wedding took place at a convention, Gene even gave away the bride.
- NBC Television Studios, New York City, NY, August 4, 1995 -
KISS performed two songs for their appearance on 'Late Night With Conan O'Brien'. Conan, a KISS fan, introduced
the band when they held their reunion press conference on board of the U.S.S. Intrepid in 1996!
- Sony Sound Studios, New York City, NY, August 9, 1995 -
The taping of MTV KISS Unplugged, the performance is still among the most successful MTV Unplugged sessions.
Old costumes behind plexiglass at the convention in the Gift Center Pavilion on June 18, 1995 in San Francisco.
All former and than current KISS members at MTV KISS Unplugged!

Paul and Ace rehearsing at MTV KISS Unplugged

More old costumes behind plexiglass at the convention in the Gift Center Pavilion on June 18, 1995 in San Francisco.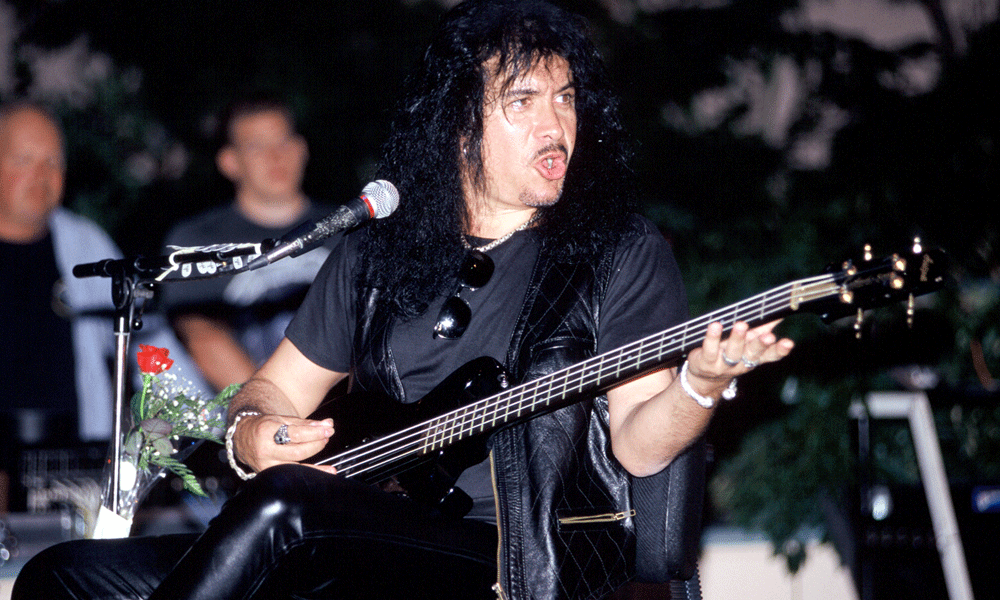 KISS tribute band Cold Gin performing with Tommy Thayer as Ace and Spiro as Gene.

KISS answering questions during the Q&A

Ace and Paul's old costumes behind plexiglass at the convention in the Gift Center Pavilion on June 18, 1995 in San Francisco.

Bruce holding a guitar clinic

Peter during rehearsals for MTV Unplugged

Peter Criss's drum set used on the 1976 Alive! tour on display at the convention in the Gift Center Pavilion on June 18, 1995 in San Francisco.
Bruce at MTV KISS Unplugged, his last show with KISS...

All the KISS members on the stage for KISS MTV Unplugged

Paul answering questions at the convention in the Gift Center Pavilion on June 18, 1995 in San Francisco.
/